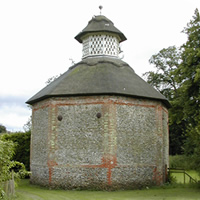 Rougham is a small village in Norfolk with about 50 houses. It has an excellent village shop.
Rougham Estate was bought in 1690 by Roger North.
There is a fine park laid out in the late 17th century and no modern development.

CELEBRATE 150 YEARS OF ROUGHAM LIFE
We are having a heritage weekend in Rougham on July 29th and 30th. This is the first time we have ever had such a weekend and so we hope that it will really buzz. Rougham is a remarkable village where there has been very little change in the last hundred and fifty years.
Click the links below to find out more.
Don't miss our historical weekend: July 29th-30th 12-5pm